Valamar has modified its products and accelerated the development of digitization projects to improve services for the 2020 tourist season. The accommodation capacities of hotels, resorts and campsites are reduced by 20%, providing even more space for guests in restaurants, at the reception, in swimming pools, on the beach and in all other communal facilities. Valamar also launched two promotional campaigns #stayinnature and #beachholidays.
V Health&Safety

V Health&Safety is a comprehensive program of health, safety and environmental standards, as well as advanced cleaning protocols aimed at further enhancing hygiene standards that Valamar implements in its properties. V Health&Safety protocols are aligned with the safety recommendations of the World Health Organization, the European Center for Disease Prevention and Control, the Croatian Institute of Public Health, as well as relevant standards and certificates such as HACCP and ISO standards. Learn more.
CleanSpace – 100% privacy
Valamar introduces the "CleanSpace - 100% privacy" service this season, to increase the safety of guests. The service guarantees that key contact points in rooms and mobile homes are thoroughly cleaned, disinfected and sealed for entry before the guest's arrival. In addition, guests can choose complete room privacy throughout the stay with the guarantee that staff will enter the accommodation unit exclusively at the guest's request.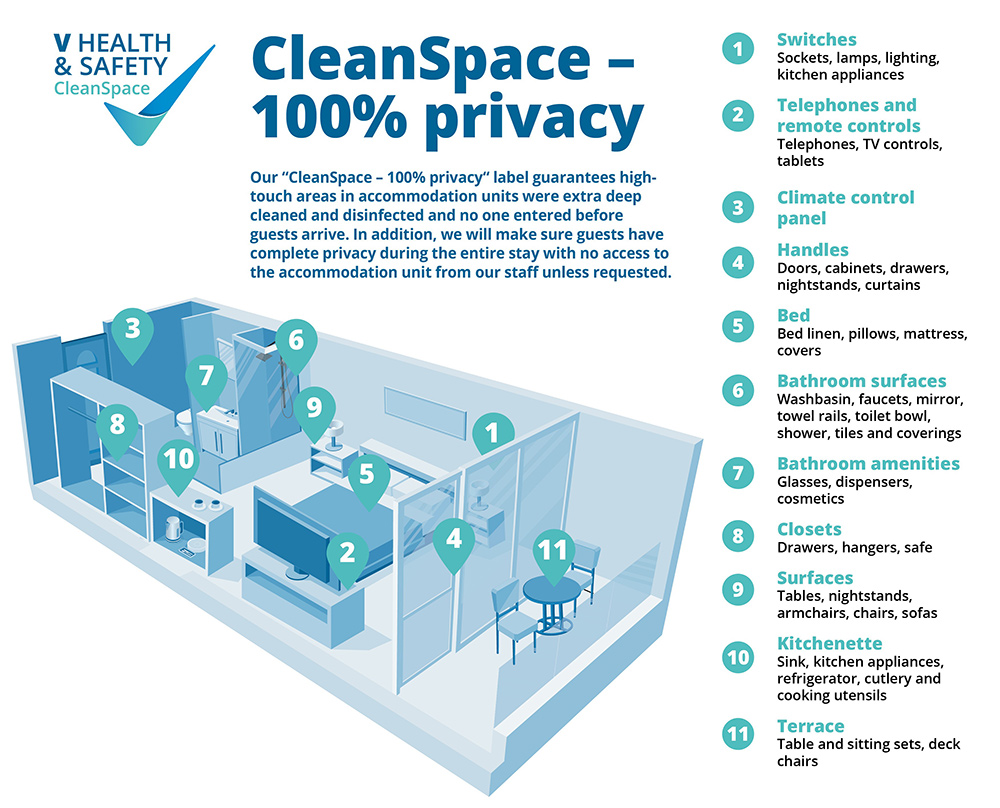 Online reception
As a result of accelerating digital development in 2020 Online reception will be available to all hotel and camping guests. Valamar's Online reception enables guest check-in and check-out via the Internet, thus simplifying arrival and departure.
Bed&Brunch
Bed & Brunch is a new restaurant service in the Old Town Holiday and Sunny B&B hotels, which, instead of the classic half board scenario, offers an extended breakfast and brunch that guests can enjoy from 07:00 to 13:00, which gives them even more space and simplifies meals and hotel stays. Learn more.
Promotional campaigns #stayinnature and #beachholidays
Two promotional campaigns #stayinnature and #beachholidays have been launched with the message that after #stayathome there is nothing better than a vacation in nature or on the beach, for which Valamar and Croatia have ideal conditions. Learn more.
Valfresco Direkt Online Store
As part of the restart preparations, Valamar has developed a new service called Valfresco Direkt, available to all citizens, tourists and Valamar guests in Istria at www.valfresco.com. At Valfresco Direkt customers can order and purchase local products online, which will be delivered directly to the customer's address, with special emphasis on the partnerships with local producers and family farms.