Published 24. March 2021.
The first [PLACESHOTEL] by Valamar in Stari Grad on Hvar opens in May
Valamar has launched a new lifestyle brand called [PLACES] by Valamar, for guests seeking freedom of choice, modern designs and authentic destination experiences with full respect for nature and the environment. Lifestyle hotels are a recent trend in the hospitality industry because they push the boundaries of traditional hospitality products and services. Lifestyle hotels focus on creating unique experiences and providing authentic services, i.e. interpret the most valuable aspect of a destination to attract modern travelers. These travelers are primarily millennials who are venturous and enjoy encounters with like-minded people, natural foods and dishes and care for environmental sustainability.  
 The first Valamar hotel under the new brand is HVAR [PLACESHOTEL] by Valamar in Stari Grad on Hvar (ex hotel Lavanda). Valamar invested close to HRK 53 million in the hotel's reconstruction scheduled to open mid-May.
One of the most significant features of this hotel is [PLACESFLEXI] that provides guests the freedom to enjoy the restaurant offer in the rhythm that suits them best. If guests miss lunch or dinner for any reason, they can use their EUR 25 daily credit in the hotel restaurant or bars. They can also transfer the amount they do not spend to the next day. Guests will also enjoy the fantastic pool complex, which becomes the center of entertainment during the day with live music by local bands and DJs, which continues well after sunset. The hotel has 179 rooms that are a blend of Mediterranean tradition and modern design. All are furnished with extremely comfortable beds with top quality mattresses, a smart TV, super-fast Wi-Fi, air conditioning and everything else a modern traveler needs to enjoy a holiday of a lifetime. Guest have the comfort of cashless payment with a bracelet and contactless check-in.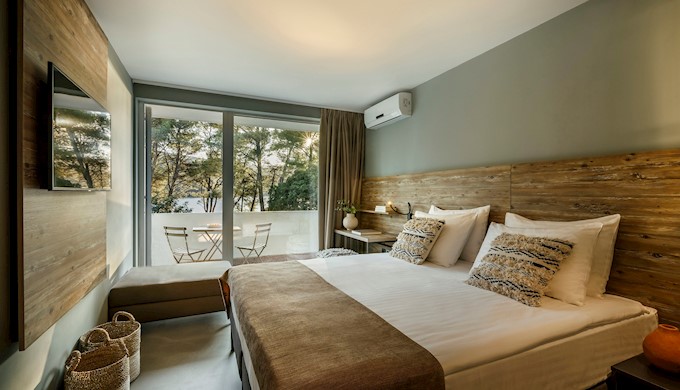 "With the introduction of the [PLACES] brand, Valamar continues to follow the latest trends in the hospitality industry. It is a hotel concept intended primarily for millennials, young professionals and those who lead a specific lifestyle that [PLACES] promotes. HVAR [PLACESHOTEL] is primarily focused on the British, United States, German, Austrian, and of course the Croatian market. Hvar is a destination that has successfully positioned itself on the market segment of younger, relaxed and environmentally conscious people. That is why Valamar has chosen Hvar as an ideal destination to launch its new brand with great expectations in the future. In the coming period Valamar plans to open several more hotels under the [PLACES] brand. - said Davor Brenko, Vice President of Sales and Marketing in Valamar Riviera.
The visual identity of the brand [PLACES] by Valamar was designed by the award-winning Studio Sonda from Vižinada near Poreč, and is one of five Valamar brands under the umbrella brand All you can holiday to create the perfect holiday every day, for every guest. Apart from [PLACES] Valamar hotels and resorts are under the brands Valamar Collection, Valamar Hotels & Resorts, Sunny by Valamar, and Camping Adriatic by Valamar. There is more information about the brand [PLACES] at the link: https://www.valamar.com/hr/brand/places.
Valamar Riviera is the leading tourism company managing 36 hotels, and resorts and 15 camping resorts in renowned tourist destinations - in Istria, on the islands of Krk, Rab and Hvar, Makarska and Dubrovnik, and in Obertauern, Austria.